Cancel the Wedding
"Three women in wigs shout their shouts and tell their weird, unassuming tales." – Robert Christgau, "Honorable Mention" Pazz & Jop Poll, Village Voice, March 1, 2000

"As with such modest, cutting 1980s UK punk combos as Delta 5, women singing like people having real conversations. Increasingly funny, vehement, distracted conversations." – Greil Marcus, "Real Life Rock Top 10," Salon, August, 1999 [Cancel the Wedding was #2]

"The homemade lyrics are clever and funny slices of everyday lives carried on beneath the radar of the daily orgies atop the stock market, in humbly passionate rooms where people take Prozac and are sometimes reincarnated as puppies. Let's just call She Mob "passive-resistance grrrls." – Richard Riegel, Village Voice, February 8, 2000

"Think Velvet Underground jamming with the Melvins and your mother." – Greg Heller, BAM, August 22, 1997.
In the far-off realm that was San Francisco in the early 80s, three young women (college DJs and roommates) started playing music together with their friends, mostly on Tuesday nights at a rather indescribable dive bar in the Tenderloin district. At the turn of the century, these decidedly older women started banging out music together once more.
Named after an obscure 1968 exploitation flick, this iteration of  She Mob consisted of Diane Wallis and (Joy) Sue Hutchinson trading places on bass and guitar (with Diane wielding a violin when the mood struck), and Lisa McElroy on drums. All three sing. Alan Korn, formerly of the Cat Heads, and X-Tal, joined the group to play bass and guitar.
Thought to be out of print, but recently Alan found a box full of first-edition CDs in his attic. And then Lisa found sixteen CDs in her stairwell storage while cleaning out the garage. So they're not as rare as we originally thought, though still pretty rare, relatively speaking.
These artifacts from 1999 and the always-available digital downloads are available at CDBaby and at iTunes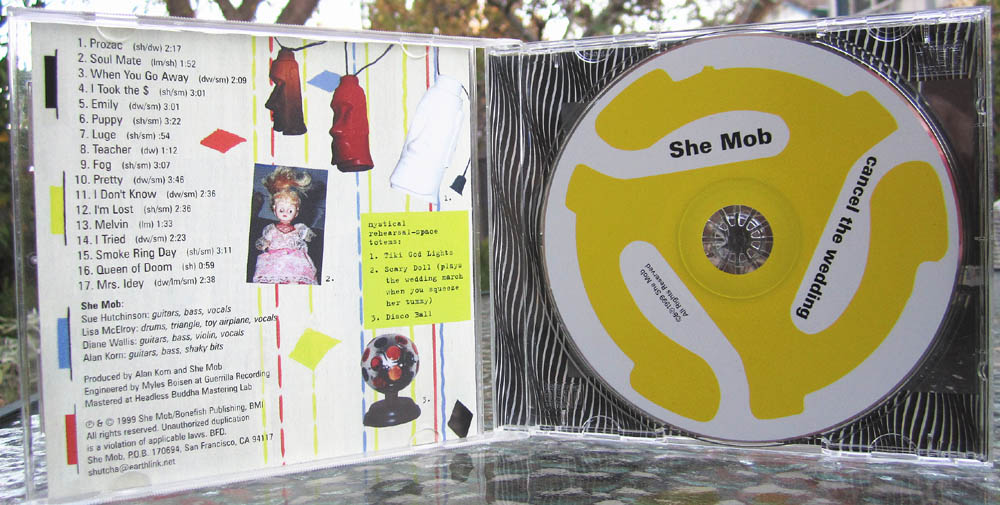 Prozac
Soul Mate
When You Go Away
I Took the $
Emily
Puppy
Luge
Teacher
Fog
Pretty
I Don't Know
I'm Lost
Melvin
I Tried
Smoke Ring Day
Queen of Doom
Mrs. Idey
Joy (Sue) Hutchinson – guitars, bass, vocals * Lisa McElroy – drums, triangle, toy airplane, vocals * Diane Wallis – guitars, bass, violin, vocals * Alan Korn – guitars, bass, shaky bits * copyright 1999 She Mob/Bonefish Publishing, BMI